On February 11, 2014 Cenovus Energy made available data in its annual SEC report detailing company results for the 2013 fiscal period. Earnings (-33% to $662m), capex (-3% to $3.262 billion), Foster Creek output (-8% to 53,190 net / 106,380 bpd gross) all down for a variety of reasons; earnings negatively affected by an unrealized after-tax management loss of $310m (vs $43m gain last year) / non operating foreign exchange loss of $52m (vs gain of $48m). capex down due to July sale of Lower Shaunavon.
the good - a number of items were up including total BOE production (Christina Lake 12-months up 31,903-> 49,310; total liquids up 8% of +14,382 -> 174,482 bpd (67% oil vs 63% last year); total +1.6%-> 258,815. royalties down - oil $5.01 (-20% / -$1.28) coupled with higher realized oil price - +4.7% / +$1.22) but operating expenses also up +12.6% / +$1.75 : this culminated in a small gain in netback for liquids (+1% / +$0.36). next ten years company expects capex to average $3.0 -3.7b (higher at Narrows Lake); only $27m of capex went to natural gas properties. 2013 revenue up by $1.849 billion an 11% increase to $18.657b. downstream refining and marketing accounted for 33% of the increase ($731-> $1350m) despite accounting for only 7% of company revenue.
The company's conventional oil assets in Saskatchewan are Weyburn, Pelican Lake and Lower Shaunavon.
2012: data released on February 20, 2013 - Bitumen reserves up 18% to 1.717B boe (2011:1455 +26%) or 345% of oil depleted by production that year. Reserves are enough to sustain 2012 avg production for 60 years ! (112,288 bpd total from the oil sands up from 86,857 (2011), 59,000 bpd (2010). That compares to only 12.05 years for light oil (vs 12.7 yrs in previous period).
With joint partner ConocoPhillips has committed $5 billion in capex over the next 5 years in key projects Narrows Lake, Foster Creek, Christina Lake, Weyburn. The capex is expected to double output by 2018 (110-> 230th boe/d)
Financials
Net asset value per share (NAV) is on track to double by 2015 (up 32% in 2011 over 2010 to $37/share). In 2011 Contingent resource increased by 34% to 8.2B boe from 6.1B.
2011: Per share, operating income to $1.64 (up 55%), earnings per share to $1.95 (up 37%). Total company profit was C$ 1.478 billion, the highest since 2008. 15% of the $2.7 billion spent on capital investment in 2011 went to Padd II's Illinois Wood River refinery; The refinery added an additional section dubbed CORE, which will allow it to refine an additional 65,000 barrels a day. Even though Foster Creek ended the year on a high, it failed to reach the output levels recorded in the first quarter (58,000 bpd vs 55,000 bpd avg during the year).
Natural Gas: Although declining at a rapid pace, natural gas remains a significant contributor to total production. Before Royalties it was 139,500 boe/d in 2009 (54% of total), 122,833 boe/d in 2010 (49% of total), 109,333 boe/d in 2011 or 45% (110,000 boe/d in 4Q2011, 43%), 99,000 in 2012 or 37% (96,200 net). Cenovus has set a long term production target for gas at 400-500 mmcf/d which represents roughly half of what it produced when it initially split from Encana in 2009. Natural gas prices are near a nine year low of around $3-4/m3; That compares to a high of $16 in 2008 which fell to $6 in 2009. Cenovus invested $22 million in gas assets in the third quarter of 2011 compared to over $220 million for oil sands operations. 36 mmcf/d of gas assets were sold off during the year leading up to September 2011.
Christina Lake ended the year at 20,000 bpd up from 8,000 bpd in 4Q2010. Production will eventually reach 278,000 bpd in 2019 following construction completion on phase G (currently phase E is 30% complete).
At Foster Creek 11% of production came from 41 wells running on Wedge Well technology. The new technology which is an enhancement of the already used SAGD, raises recoverable reserves by 10%.
Foster Creek output was highest in the 1Q2011 at 58,000 bpd, 5% higher than it ended up averaging all year.
By the end of 2011 Operating Costs were still relatively high at Christina Lake, $20.2/bbl in 2011 which represents an increase of 23% vs 2010 ($16.47/bbl); non fuel costs at CL up 28% from $13.45 to $17.16/bbl. Christina Lake was the source of 8.96% of company production during the year (12/134), 13.89% in the 4Q (20/144). Foster Creek (41.0% of production 55/134) costs were $11.34/bbl up 9.0% from 2010 ($10.40/bbl); non fuel costs up 12.68% from $8.12 to $9.15/bbl.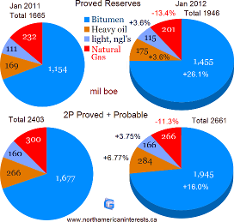 click on image to enlarge
China: Week of February 11, 2011 Cenovus Energy sent its first oil shipment to China, a 250,000 barrel cargo sent via the TransMountain Pipeline that connects Edmonton and Vancouver's Westridge Terminal (which has a 12,000 bpd capacity). Future exports to China still rely on construction of the 1200 km Northern Gateway Pipeline (currently being reviewed by the National Energy Board) which will transport 575,000 bpd expected to start in 2017. The other major pipeline destined for Texas, Keystone XL has slightly higher capacity 700,000 bpd.
update- In 2013 annualized dividend was up 8.8 cents a share to $0.968 (+9%). 2012 increase was $0.080 (+10%). Phillips 66 is the joint operator of refining operations; 2013 gross refined output 463,000 bpd up from 433,000 in 2012.
Cenovus aims to lift production to 525th bpd by the year 2023 (per a 2014 report); 435th bpd of that is crude (exactly triple liquids output in 2013). Natural gas production to remain steady at 90th bpd after declining by 40% between 2009-2013.
Cenovus Reserves as of January 2014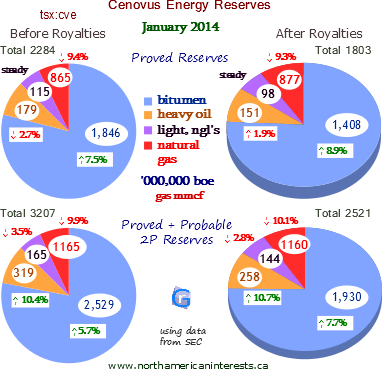 Table 1: Cenovus gross production and royalties by fiscal year
JULY 2013 (2Q 2013)
1h2013: Effective crude oil royalty rate now 10.4% down from 12.7%
Christina Lake operating costs UP 34% to $16.83/bbl (2q2013, 1h2013 +6% -> $14.66) mostly attributable to higher production volumes. Previous year in 2q2012 was down -47% QOQ to $12.52/bbl (2Q2012) with non-fuel operating costs only $10.83/bbl (-46% from 2Q11). The change reflects strong production (Christina Lake produced 44,341 in 2Q13, 28,557 bpd in 2Q12 up +20,697 bpd from 1Q12 (7,880 bpd).
Foster Creek operating costs up +34% --> $16.19/bbl (2q2013, 1h2013 +19% -> 15.08) the increase is attributable to higher electricity rates, workover issues. Previous period 2Q2012 (from $11.57/bbl) costs were up marginally to $12.49 and were affected by phase F expansion (labour costs increased) and output +3% --> 51,740 bpd.
Pelican Lake oil production up +7% to 23.959 bpd (2q2013, 1hlf +10% to 23.824). Was up +15% to 22,410 bpd last year. costs at Pelican Lake remain highest at $22.21/bbl for qtr (+25%), $20.75 for half (+23%).
Going from the 1st to the 2nd quarter of 2013 (000 bpd): Foster Creek: 55,996 --> 55,338 Christina Lake: 44,341 --> 38,459 Pelican Lake: 23,687 --> 23,959 Weyburn: 16,700--> 16,700 other conventional: 39th
Notes: Output from Pelican Lake and Weyburn has been very stable over the last 2.5 years (range of 36 to 39); From 1Q2012 --> 2Q2013 Pelican Lake within a range of 19-24th bpd every quarter and Weyburn 16-17th bpd. Christina Lake production saw its biggest boost happen betw the 3rd-4th quarters of 2012 (32 -> 42 th bpd).
Foster Creek production was within the range of 55- 63th bpd with the exception of 2Q2011 (50) and 2Q2012 (52) both quarters were the lowest in the last ten qtrs. Best quarter is 3q2012 (63).
In 2012, Cenovus exceeded its own expectations for oil output ! estimated the increase to be +21% but ended up being +23% (134,236 -> 165,403 bpd). Cenovus has a key advantage over other Canadian oil companies - it has a refining capacity of 433,000 bpd (+14th in 2012, + 28th since 2010) at 2 refineries in key padd regions of the USA. Other companies incl Canadian Natural Resources are attempting to increase their own refining capacity to handle the additional output; CNRL is building a 50,000 bpd refinery in Alberta. It will be Canada's first new refinery in 35 years.
table 1: cenovus gross production in boe and royalties by fiscal year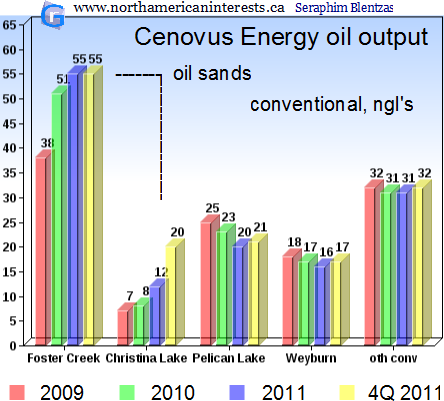 ---------------------------------------------------------------------------------------