MTY Food Group (TSE:MTY)
is a top 5 Canada-based fast food restaurant franchisor and operator with about 17% of the Canadian fast-food market (2251 out of over 12,500 food court eateries). Headquartered in Montreal (since its founding) it has acquired the rights to 30+ brand names while launching 10 others, the largest of which are Country Style, Yogen Fruz Canada and Mr. Sub (Mr. Sub $23 million takeover to be completed in October 2011, brings locations up to 2070, after Koryo acquisition complete beginning of 2012 total units up to 2251).
[1]
[2]
The number of locations it oversees doubled in the 3 years leading up to June 2010 when it joined the TSX as a debt free company. Prior to the 2016 acquisition of Kahala Brands, 3/4 of its 2000+ locations were in Ontario and Quebec (which comprise about 2/3rds of the Canadian market) and 3% outside Canada. Because of the diversity of its brands it is able to operate more than a couple locations within the same area, usually food courts but also convenience stores. For instance at one of Canada's largest malls the Eaton Centre in Montreal MTY oversees 12 of 29 eateries. Its investments have been frugal, for instance its largest acquisition Country Style donuts, the 2nd largest donut chain in Ontario which only cost the company about 12-14 million dollars (6.7 million in debt which the company doesn't carry anymore) at the time increased revenue by a third or about 94 million dollars.
2021
As of year end 2020 the company franchises and or operates 7400 restaurants under 75+ banners. (6000 + 1400 papa murphys may 2019)
Major Acquisitions
May 2009 -
MTY Group acquires Country Style Food Services Holdings Inc. This purchase allowed it to establish a leadership position in Ontario. one year later on May 4, 2010, it went public on the Toronto stock exchange.
May 27, 2016

-

acquire

Kahala Brands, Ltd

., parent company of 18 brands, including Cold Stone Creamery, Blimpie and Pinkberry for US $394 million. at that time MTY was the franchisor or operator of 2700 restaurants under 39 banners.
December 12, 2017

-Acquires

Imvescor Restaurant Group Inc

. (TSX:IRG), the parent company of Pizza Delight and Baton Rouge restaurants, for $4.10 a share, a 13% premium.
May 2019 -
acquires Papa Murphy's Restaurants for US $190 million - it has
1,400 franchised and corporate-owned stores in 37 U.S. states, Canada and the United Arab Emirates [1]
Much of this article focuses on MTY's core business history. The more recent acquisitions Kahala brands / Cold Stone Creamery, Imvescor / Pizza Delight Corp were made possible by the tremendous cash flow generated by MTY's own launchings and earliest M&A's.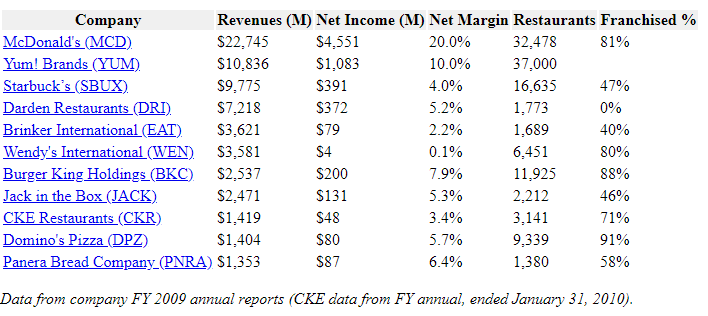 MTY opened the year 2012 with 1,893 locations up from 1741 (1710 franchised/ 31 owned including 9 Groupe Valentine locations) in the first quarter of 2011 (not including Mr. Sub's 335 locations to be acquired in October 2011). The change in locations for the third quarter reflects the closure of the acquisition of Jugo Juice (136 stores) and a net gain of about 30 opened locations (90 opened and 60 closed). In addition to Canada, it does business in Dubai, Jordan, and Morocco. 95 new locations were added to the company's royalty stream in the third quarter of 2010 when it took over Groupe Valentine, a casual dining restaurant franchise operating only in Quebec.
Though direct income (royalties) from franchised locations represents only 5% of sales (comparable to other franchises like Tim Hortons), indirectly MTY raises that to over 10% by requiring the frachisee use certain products supplied only through the parent company.
In 2010 MTY opened 191 new locations 67.5% more than in 2009 (114). $1.4 million in additional royalties were generated by the new locations (doesn't include Country Style or Valentine). In 2010 exactly 13.0% (Cdn$8.7 million down 7% from $9.4 million the year before) of corporate revenue came from non-franchised locations (parent operated). Of the $66.9 million in revenue $7.5 million is attributable to the Country Style brand, 2.0 million to Quebec's Valentine chain of restaurants. $4.0 million was from stores considered franchise turnkeys. The lower revenue from corporate owned stores is due to a reduction in the number of locations (although the acquisition of Valentine added nine more).[6]
Though debt free at the time it joined Toronto's main stock index it has since added long term debt beginning the fourth quarter of 2010 ($930,000 which represented 1/3rd of total debt); That number has since grown to $3.93 million (78.3% of total debt).

Financial results
The food company used its increasing cash flow not only to acquire more brands but also launch new ones. Corporate debt has gradually decreased ever since it began reducing its dependence on revenue from corporately owned stores (started out owning almost as many stores as it franchised but eventually funneled all extra money into acquiring more brands and promoting those already associated with the mty banner while gradually divesting owned locations). The last couple years have each recorded record revenue attributable to less debt and more revenue coming from franchise fees (more locations and higher fees which are at about 5% of sales). As a result growth averaged 30% between 2004 and 2009. In 2009 due to acquisitions (Country Style) and strong organic growth (67 more locations than those closed) net income rose 24%, revenue rose 51% (67% for franchise locations in the year, 106% higher in the 4th quarter than the last) and total system wide sales increased 55 %. Although same stores sales are 1.14% lower in the first half of 2010 total system wide sales are up because of additional locations.
Total assets surpassed $100 million in value by the end of the first quarter of 2011, that represents a 94.3% increase since the end of 2007.

Leadership
Company management is experienced and hasn't changed much since 2000. It remains headed by Stanley Ma who represents it as ceo and chairman. Stanley Ma started the business when he turned a 400,000 dollar investment in a Montreal restaurant into the cash flow and experience needed to begin the Tiki Ming concept, a brand that today has 57 locations. In 2009 the Conseil québécois de la franchise recognized MTY as franchisor of the year and awarded it another prize for marketing and communications.
Acquisitions
The company has made many acquisitions, about 7 more than the brands it launched on its own (10 versus 17). In 2011 for the first time MTY Foods cancelled an agreement it previously made to acquire a brand (Sushi Taxi); Sushi-Taxi is a chain of 12 sushi bars in Quebec (the deal announced in April cancelled in May was valued at Cdn$5.8 million). Jugo Juice was acquired around the same time for $15.5 million; the transaction gives MTY 133 more locations and adds approximately $36.4 million to annual sales (deal includes Jugo Juice's 1,250 square foot condo headquarters in Calgary). Both deals were made through subsidiary Tiki Ming Enterprises Inc.
Mr. Sub
MTY Food Group on August 18, 2011 said that it had reached a deal with the owners of Canadian fast food franchisor Mr. Submarine to purchase the brand rights used by 268 stores in Ontario and another 67 in six other provinces for a total of 335 locations in Canada.[1] Some of the locations are corporately owned/run but most are franchised. The takeover cost MTY a cash amount of $23 million but will be a significant addition considering system-wide sales at Mr. Sub in 2010 totalled over $100 million or a little more than 1/5th of MTY Food Group's (C$ 461.9 million). The deal expands MTY's presence in the food industry two-fold 1) Boosts store-front business (75% of Mr. Sub locations are outside/on the street) whereas MTY runs mostly a food court business and 2) Expands market access by adding submarine sandwiches to a long list of specialty items which includes ethnic food/Mexican/Oriential, french fries/hamburgers, yogurt, donuts, coffee, pizza, pasta, sushi, tacos and others.
Competition
After recent acquisitions the only Canadian franchisors who can say they are larger than MTY Food Group are Tim Hortons, Cara Operations and Boston Pizza (all near or over $1 billion in system wide revenue (2010)). After the takeover of the Valentine brand in Quebec MTY's annual system wide revenue (what it's on track for) moved towards $450 to $500 million putting some distance between it and competitors Imvescor Restaurants ($324.8 million in 2009 about 18% less than MTY), Pizza Pizza ($250 to $300 million), Chairman's Brand Corporation.
references
mty 2009 end of year results shopping center new stores acquisitions history