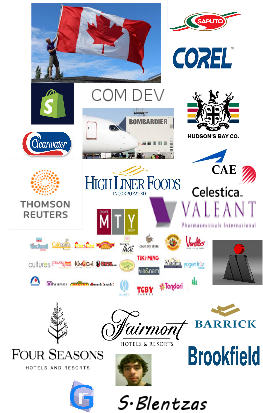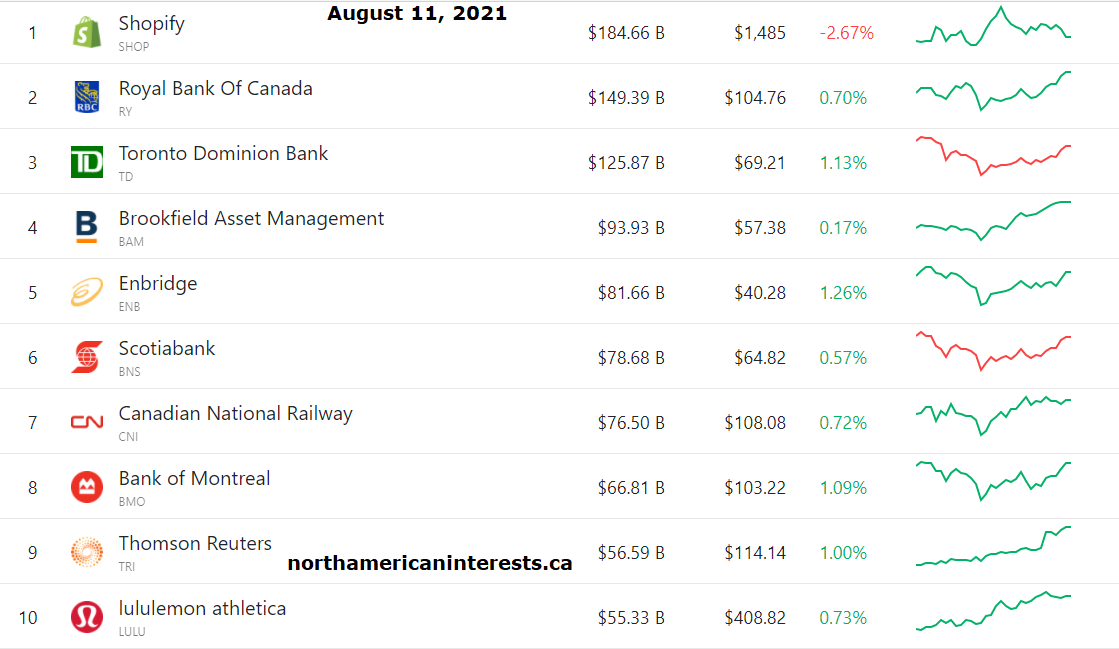 65 of the world's 2000 biggest companies call Canada home. Tied with France & India and just behind South Korea.
9% of Canadians worldwide live outside the country. That is much higher than it is for the USA (1.7%),China (2.6%), Australia (4.3%)
Canada is home to a diverse array of companies whose influence extends beyond Canada's borders.
The industries they play a vital role in include technology, aerospace, train transport, banking, insurance, food retailing, computer programming, insurance, oil, gold mining, transportation, fertilizer, gas, among many others.
also notable: Inventor of the image tracing software Portrace used by Inkscape teaches math at Dalhousie University.
Canadian companies equal Investment Opportunity !
"Many are undervalued. In some cases the pe ratio is absurdly low, others suffer from management issues; quality of assets is there, revenu
e is steady and rising, however earnings continue to disappoint. examples include Bausch Health/Valeant, Bombardier, Air Canada"
Bombardier in particular has been bombarded with criticism of the streamlining of operations. My response is - They're the company that saved Canadair. They have the best business jets in the world , revenue will go up 25% this year to almost $10b. where's the optimism ? sometimes less is more Seraphim Blentzas below is the list as of May 15, 2023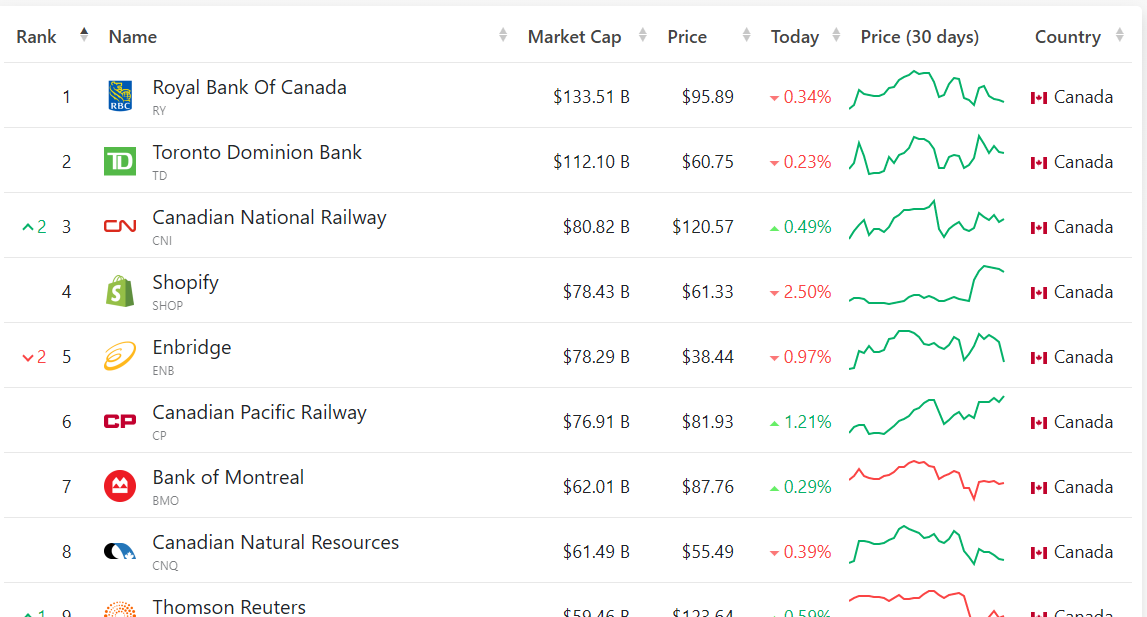 Lionsgate Entertainment - founded in Vancouver by Canadian businessman Frank Giustra.
Cameco - world's largest publicly traded uranium company
Bombardier Recreational Products BPD - large cap publicly traded company that is separate from bombardier inc. annual sales almost 4 billion dollars.
Emera - Utility company based in Halifax that controls power grids in parts of the Caribbean and north America.
Stantec - Since 2000, Stantec has bought more than 75 engineering, design and environmental firms, all of them in North America.
Air Canada - after completion of takeover of transat, will rank among top 10 airliners in the world by number of passengers. canjet appears to be the next target.

Restaurant Brands Inc - parent company of Burger King, Popeys, Tim Hortons.
Cadillac Fairview - shopping malls, properties
Keyera - refining and processing gas into final products, storage.
Canadian Tire Corporation - major automotive and sports retailer. subsidiaries include Norwegian clothing brand Helly Hansen
CGI group - global information technology leader. $30b market cap
Bombardier - The leading supplier of rail cars (pending deal with Asltrom). It is also the largest producer of business aircraft, third when all aircraft is considered - behind only Boeing and Airbus.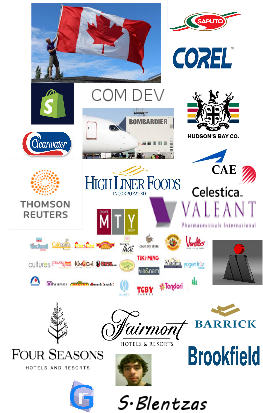 After buying Canadair, Bombardier developed a regional jet program (CRJ) that became an industry leader while also building sleek business jets in factories around Montreal.
In 1984, 8,000 people worked in Quebec aerospace jobs. That number more than tripled in the span of a decade as a cluster of companies emerged to supply parts for Bombardier's planes. Montreal now competes with Toulouse, France (where Airbus is based) and Seattle (where Boeing has its roots) as one the biggest aerospace hubs in the world. The industry employs nearly 50,000 people in Quebec.
CAE, Inc - key player with global reach. provides simulation and related technologies as well as training services to the civil aviation industry and defense forces. CAE offers civil aviation, military and helicopter training services at 40 locations worldwide where it trains more than 80,000 civil and military crewmembers annually.
Blackberry - was the smartphone market share leader in Indonesia, South Africa, Argentina, Middle East. Still popular with companies in the corporate market, India - Fortune 500 companies. 2021-working with Amazon to develop automotive infotainment tech - market cap doubles in 1 month.
TD Bank -Manages car insurance for Chrysler North America. October 2016 paid $4 billion for Scottrade America's largest online brokerage for stocks. 3 million accounts $1 trillion assets.
Couche-Tard - World's largest convenience store operator has stores in USA, Europe, Mexico, Japan, China, Vietnam, Indonesia. June 20, 2012 pays $2.8 billion to takeover the largest oil and gas retailer in Scandanavia Statoil Fuel & Retail. 623 corporate stores in Arizona alone !
Magna International - Builds vehicles, constructs auto parts for GM, Chrysler, Toyota, Ford. A sterling reputation and lack of allegiance to any one company make it a top choice for automakers looking to contract out work. considered buying opel, saab but bowed out of the bidding process so as to avoid any conflict of interest with its largest customers.
Barrick Gold - World's largest gold company and producer owns some of the largest gold mines in South America (Veladero, Lagunas Norte, Pueblo Viejo 1 million ounces per year), Australia (Super Pit), Africa and the United States (Goldstrike, Cortez).
Goldcorp - Owns 100% of Penasquito a Mexican mine with over 1 billion ounces of 2P silver reserves.
Ontario Teachers Pension Plan Board - Largest shareholder in a number of major foreign companies including 27% stake in Northumbrian Water Group, the main servicer of water utilities in England.
Power Corporation of Canada - Through two European holding companies, Parjointco's (controlled by Power Corp boss Desmarais) biggest investment is a 56.5% share of Imerys, a Paris-based multinational that mines and processes minerals, which are then used in a vast range of products, including paper, paint and the familiar red roof tiles still used by builders across Europe. It also owns 21% of Lafarge, the No. 1 global cement producer, and minority stakes in French oil giant Total and venerable spirits and winemaker Pernod Ricard.
Insurance - Manulife Financial, Sun Life and Great-West Lifeco are three of the 30 biggest insurance companies in the world.
Hudson's Bay Company - HQ in Toronto. Subsidiaries include Saks Fifth Avenue, Galeria Kaufh of lGermany, Sportarena 40th m2 retail space in Germany, Greece, Europe.
Hoteliers
Fairmont Hotels and Resorts - headquarters remains in Toronto despite takeover by Accor.
FrancoNevada - World's 5th largest gold company
TransCanada Corp - operates pipeline routes around the world. market cap at $90 billion as of March 2022, just behind Enbridge at $100 billion.
Four Seasons Hotels - Another widely popular international brand founded by Torontonian Isadore Sharp.
Rogers Communications ($55B market cap after Shaw acquisition), BCE ($50B), Telus ($35B),
Magellin Aerospace - provides complex assemblies and systems solutions to aircraft and engine manufacturers, defence and even space agencies!
Verafin - $2.75 billion online security company works with 300 banks in North America to detect fraud.
Shopify - lucrative deal in place with instragram gives it an edge over the competition. April 20, 2020 Shopify becomes Canada's largest company with market cap more than US $210 billion.
OPEN TEXT - develops and sells enterprise information management software. November 2019 buys boston's carbonite inc (cloud backup) for $1.5 billion.
Lululeman - clothing. Gildan - clothing Canada Goose - winter coats First Service - north america's leading property manager of residential communities. WSP Global Inc - offers services in project delivery and consulting. AbCellera - biotechnology firm that researches and develops human antibodies to address pandemics and common diseases. Constellation Software - acquires, manages and builds industry specific software businesses.
Airboss Of America - Soldiers fighting biological threats need sophisticated protective gear. that's where Airboss come in. circa 1994. Their products have been used in Syria by UN inspectors assessing whether sarin gas or chlorine was released.
Cott Corp - Quebec based company sells beverage concentrates. he United States is Cott's largest market by far, but it now sells beverage concentrates in more than 50 countries, and 20% of its revenues come from outside of North America.
DHX Media - Halifax-based company with lucrative assets. Is currently the leading independent producer of children's programming. Major acquisitions - Iconix Brand Group ($345m, May 2017), Cookie Jar Group/Cinar ($111m, August 2012), and a number of others
. DHX owns the rights to teletubbies, peanuts, strawberry shortcake, inspector gadget, paddington bear, arthur, caillou, degrassi, and many others.
eOne entertainment - major film (alliance films) and tv production company. important distributor of independent movies.
Scotiabank -has major operations in South America.
Frontera Energy - Fastest growing private company in Colombia. One of the largest investors in South America among foreign oil producers.
High Liner Foods - North American leader in packaged seafood meals to grocery stores. based in Lunenburg, NS.
Nova Scotia despite being Canada's second smallest province, it is home to some big name companies: Sobeys, Clearwater, High Liner, Crombie reit, Jazz Aviation, Oxford Frozen Foods, Eastlink, Maritime Travel, Maritime Life, IMP Group/cascade aerospace, Stanfields, Larsen Family Meats, Acadian Lines, Grinners Food Systems. New Brunswick also deserves more attention; little exposure has more to do with the fact that many companies are privately held. Irving Oil, McCain Foods, Ganong, Bell Alliant.
Clearwater Seafoods - leader in scallop and other seafood supplies. One of the largest vertically integrated seafood companies.
Valeant Pharmaceuticals - Montreal-based pharma company. Owns such brands as Bausch & Lomb. May 2014: $47 billion takeover bid for Allergan Inc; if accepted Valeant would become one of the world's five largest pharmaceutical companies. Owns Egypt's leading pharmacy distributor.
Vermilion Energy - France's leading oil producer.
Loblaw Companies - Private clothing line Joe Fresh Style sold at 600 J.C. Penney locations across the United States.
Irving Oil - Network of gas stations extends into New England. largest landowner in NB, Maine. Operates one of North America's largest oil refineries (400,000 barrels per day).
Corel - Ranks among the market leaders in vector imaging software.
Caisse de dépôt et placement du Québec - institutional investor that owns many of the worlds airports. venture capitalist investor
Ivanhoe Cambridge - has a network of malls, shopping districts, infrastructure projects across the globe.
Enbridge - Owns oil and gas pipeline infrastructure in the United States. Owns Spectra Energy of Houston paid $28b 3Q2016
Thomson Reuters - A leader in global media reporting. Largest shareholder is Canada's wealthiest person Kenneth Thompson Jr.
Petrobank, Suncor, Cenovus - Own key patents used around the world for the extraction and processing of oil and gas.
Nutrien - World's largest fertilizer producer.
Indigo Chapters - The bookstore chain plans to open up new stores stateside beginning in 2014. Already secured deal with Apple for e-books - will open 40 Apple in-store locations.
Lululemon - Exercise clothing retailer.
Canadian National Railway - world's second largest train company by market value ($35/$45b) serves USA, Canada.
Com Dev International - communication satellite components.
Celestica - third party design and manufacturer of electronic devices. competes with foxconn.
Real Estate
Brookfield Asset Management - leading purchaser of private properties in 2015 in the EU. Total asset value of $160 billion as of May 2017 is second highest among all real estate companies in the world, behind only China Evergrande Group ($194 billion). ranks #202 on Forbes 2017 edition of the global 2000 list. It's headquarters in Toronto is Brookfield Place.
Saputo - World's largest cheese producer. Present in more than forty countries, although about half of those sales are in the U.S. and 35% in Canada.
SNC Lavalin - Major engineering firm. Since 2012 owns the rights to CANDU nuclear division of Atomic Energy of Canada Limited. Candu nuclear reactors were among the first used in China, Pakistan, Venezuela, South Korea, Romania.
MTY Food Group - with the number of fast food locations pushing 5000 this rapidly expanding food service operator is quickly becoming a household name. In 2016 it acquired Kahala brands giving it a major foothold in the US market (cold stone creamery). May 2017 opened the first Thaï Express stateside.
my assessment -> MTY Food Group