Global Silver Mine Production for the year year ended December 2013
26,000 tons / 832 million ounces - i) Mexico 5400 tons +40 ii) China 4000t +100 iii) Peru 3500t +20 iv) Russia +200 tied with Australia -30 at 1700t v) Chile +10 tied with Bolivia -10 at 1200t. Countries outside of the top 10 producers contributed 4300t +70
48% of the world's silver reserves reside in Australia, Poland, and Chile !
In 2013 demand for silver increased 13% to 1.081 billion ounces. buoyed by 76% increase in investment demand (bullion coins and bars).
Silver Futures Market demand skyrockets in China- On the Shanghai Futures Exchange, 173.2 million silver contract options traded hands, up a whopping 415% vs 2008 (21.26m); 15 kilo contracts most popular. only 20.1 million gold contracts were traded in Shanghai vs 10.7 million at Comex.
Silver output leader KGHM Polska produced 37.5 million ounces in 2013 down 3.5 million ounces versus 2012 (most of decrease occurred in 1h2013 when output fell by 3.86 million ounces) (January through June 2013)
2013 first half silver production down -16.76% or 109.5 tonnes. That's about 0.7% of global silver output gone from just one company. KGHM attributes the declining output to lower silver content of processed ore concentrate and purchased concentrate.
Pan American Silver nasdaq: paas is the world's largest pureplay silver company.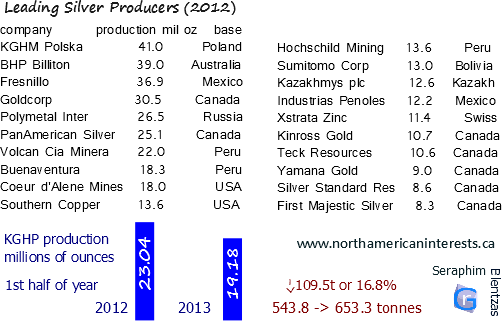 KGHM (wse:kgh) ranks just ahead of BHP Billiton and Fresnillo in total silver production, 35% higher than Goldcorp (though Goldcorp's new Penasquito mine (partner is Silver Wheaton) is one of the world's largest with more than 1 billion ounces of silver), and the same as Peru's two largest mining companies combined: Volcan and Buenaventura.
If you haven't already heard of KGHM you're not alone - this mining company, which runs operations out of Poland, produces silver as a secondary source (byproduct silver is sold to other companies). In addition to producing silver it mines copper, non ferrous metals, molybdenum, nickel, (Sudbury) and salt. KGHM operates in North America (Canada - Sudbury / United States - Nevada) and Chile. assets include 1.8 billion ounces of silver reserves in the Legnica Glogow copper belt. is also world's #3 copper producer.