According to counterpoint research the global smartphone market for shipments is dominated by Apple, Samsung, Huawei, Xiaomi, Vivo, Oppo, Lenovo and others. It looks like this
but it is not clear whether these are brands, companies or providers since many of the companies subcontract the production of the phones even to cellular network providers.
Blackberry could become relevant again in 2020, at least in India it is hoping for
10% market share
.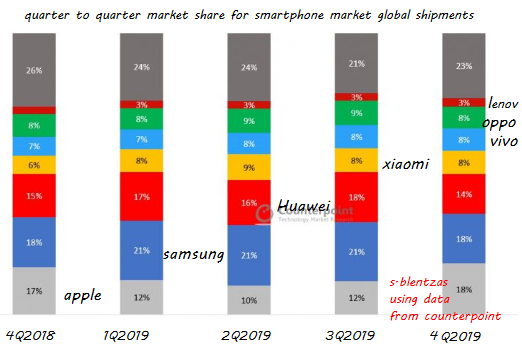 Highlights from last quarter 2019 going into 2020 total shipment globally stagnant at just over 500 million units.
The top three brands, Samsung, Huawei and Apple, captured more than 50% of the smartphone market, with the rest of the market left for hundreds of other brands to compete fiercely.
REALME r
emained the fastest growing brand during the quarter (163%) and on the year (453%). In 2019 REALME entered the top five in India.
Huawei displaced Apple in 2019 as the #2 provider of smartphones in the world–apple was second ever since 2010. Things working in Apple's favor include
US government bans on Huawei (no more Android and Snapdragon, Huawei grew 28.5% in the third quarter of 2019.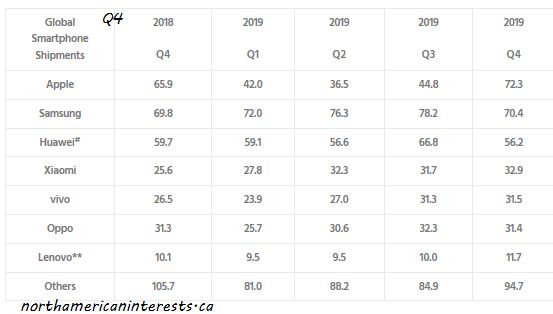 Samsung is still the top seller for smartphones
in the European market, Africa and Latin America, and second to Apple in North America. In Asia
, Samsung has fallen to fifth place.