SecuSuite encryption card tailor made for BlackBerry Z10, locks down corporate data. Makes BlackBerry Z10 the first smartphone to meet government specifications for classified security use.
March 5, 2013: German government buys 5000 Z10 smartphones citing the device's security features as a key reason for the purchase. Z10 also has recently been approved by NATO for storing and sending sensitive data.
January 2014: US Defense Department (aka Pentagon) reveals just how committed it is to BlackBerry -> 80,000 BB phones will be hooked up to a new defense information system management system. The DISA program will make it easier for personnel to work on unclassified documents.
Research in Motion continues to lead the way in encryption security and with 90% of American companies hacked in 2010 that's got to count for something. (June 23,2011 Survey Finds 90% US Companies Hacked Past Year) Google which oversees Android, is facing an antitrust probe in the U.S. meanwhile Apple is losing patent infringement cases in Germany. (theglobeandmail.com: us-to-launch-google-antitrust-probe-report) RIM's earnings continue to be strong despite a boatload of negative publicity in 2011
2011 - only fell during the quarters ended August ($329M) and November ($256m) however sales of its newest phones don't show up on the books until the end of the year, prior to the August quarter earnings were strong; the 1st qtr of 2011 down slightly however still up 6.5% when compared to the quarter ended 6 months prior; outside of the United States blackberry sales actually strengthened. By comparison Motorola (39cents) & Nokia (losses last two quarters) continue to report lower earnings per share than Rim (51 cents 3q11).
2012 - 3 months ended Sept 2012 RIM loss was only 57% as much as analysts said it would be ($235m or 27c a share) - adjusted earnings were a healthy $147m. The results bode well for RIM considering it released no new products; at the same time Nokia did release new phones and that barely helped results (Nokia lost over $2.3b in the 2 qtrs ending Sept vs only $700m at RIM). RIM's only adjusted loss during calendar year 2012 was in the the first quarter of fiscal 2013 ($192m or 37c a share); In the two quarters following that, RIM's bottom line gradually improved before reaching back into positive territory by Dec 2012 ($14m 13 wks ended December 2012)
2013: RIM moving back up ! Stock price doubled between Nov 4, 2012 and Jan 23, 2013 giving it a market cap of $9 billion.
BlackBerries everywhere at the 2013 US presidential inauguration, further evidence BlackBerry security is a distinguishing factor.
Sept 2012: Subscriber base is a record 80 million up from 77m in June.
Nokia's European market share in handheld devices was halved in 2011 from 40% to just under 20%, by comparison RIM held onto most of its share going from 19% to around 16% (shipped 3.5 million blackberries to Western Europe during the first quarter). Playbook which only occupies 1% of the tablet market may be in for an upswing. Most of the industry's 43% growth in 2012 will come from outside the US, a market which has been hostile towards RIM: top US carriers like Sprint still don't carry the Playbook despite it being the only tablet endorsed by the US government; In mid November 2011, BlackBerry 7 phones were common-criteria EAL4+ Certified meaning that the combination of security mechanisms and product design now meets the highest level of accreditation (a testament to the Near Field Communications encryption security upgrade to Java-based BlackBerry 7 Bold 9900, a 4G phone).
PlayBook now has 15% of the Canadian tablet market which is amazingly good considering it was just 5% five months ago. The change is attributable to losses in market share by Apple's iPad (now 68% from 86%) and the PlayBook becoming more affordable ($300 compared to $500 introductory price). RIM still has a lot of work to do. Only about 1% of the global tablet market is held by RIM
BlackBerry is a market share leader in more than just a couple regions! It's at 25.6% in Latin America ahead of Samsung (which is under 24%), 36% in Canada, 46% in Indonesia & 70% in South Africa.

BlackBerry update: The US security & Exchange Commission released its data on RIM and the results are compelling. For the first nine months of 2011 RIM's sales outside the USA, UK and Canada, totalled $8.24 billion up from $5.57 billion during the same period in 2010. That means 58% of its revenue comes from outside those countries compared to only 39% last year!

With all the negative sentiment towards Nokia one must also remember that it is still a big player in Brazil (symbian still ranks 1 at over 50% share but it's falling) and China (number one in market share of mobile devices but again that's falling fast). Maybe the switch over to Windows OS will help but don't count on it solving the company's problems. Some other facts about the competition: Apple's 30%+ market share in Europe is limited to just the UK (31-36%), everywhere else in Europe it's closer to 20%. Elsewhere, Apple is at over 40% in Australia (up) and over 35% in Japan. Android has over 90% of the South Korean mobile device market.
Back to RIM. The company has zero debt (read that again ZERO) while their cash and cash equivalents + investments are just over $2.2b (Sept.'12 which is up +$131m quarter to quarter: total assets at $12.639b 1.4% higher than they were Sept 2012; Nokia's assets have fallen for five straight quarters). Meanwhile they have yet to implement the highly anticipated/highly recommended QNX operating system (QNX technology has been used in space (space shuttle laser camera)) and shipments of Playbook remain healthy ranking in the top 5 in the Tablet market behind Apple which sold 9.3 million iPads; However in the quarter ended July/August 2011 shipments fell by 60% down to 200,000, a direct result of the popularity of iPad during the quarter which lowered market share for a number of other companies (rimm's tablet remains one of the top choices however Apple's dominant presence translates into a comparatively small market share for other companies to compete for). (BlackBerrys Said to Get Android Apps as RIM Seeks Sales Boost)
2011 - During the first quarter 13.2 million blackberries were sold 71% as much as Apple's iPhone (18.6 million) while the second quarter had sales of 10.6 million followed by a near record of 14.1 million in the 3rd quarter 2011; the record for shipments in a quarter for RIM was 14.2 million recorded in the quarter ended November 2010. (betanews.com: RIM ships half million in first quarter). RIM controls the 3rd most popular overall (2nd most popular corporate at 32.2% beside apple at 45%) smartphone brand in the United States. According to Brigantine, blackberry sales stabilized in the 3q11 (consequently fiscal 2012 year revenue upped to $19.8b from $19.4b). Sales of the newest blackberrys (released Nov. 15) were seen as healthy by RBC.

Another advantage RIM has is that only it and Apple both manufacture their own devices and run their own operating systems. It's inconceivable that the company is valued less than Nokia (and more recently even Motorola) which lags behind it in nearly every category of significance (according to Millenial, in the 3rd quarter of 2011 Nokia manufactured only 2.41% of all mobiles phones used on Millenial networks (USA), that compares to 11.05% for RIM; 3 of the top 9 handsets in the quarter ran on blackberry OS, combined they represent over 9% of the market just behind Apple iOS at 12.55%). To those who bring up rimm's earnings per share drop (estimated to 25% by year end) why even bring that up when its competitors are also suffering from that (Nokia zero eps, that's not growth that's total quarterly eps down from 18c the previous year), google (8.33 in the quarter ended September 2011 42% lower than the previous quarter) because competition is intensifying and prices are dropping in response (US Cellular recently refused to sell the iPhone4s because according to it the lack of profit created too much risk, another took as long as four months to realize any profit from selling iphones). Market share drop should not be as much of a concern as it is given that there are many more players in the smartphone market than there were in 2008 that's why blackberry continues to record net additions in subscribers. The fact is Research In Motion will continue to be a force in the industry as long as it is remains a leader in both the manufacture of handheld devices (Millenial report: rimm has 11.05% of the market, 4.6X Nokia) and operating system use (9.72% of the market compared to Apple at 12.55%); new market leader Samsung continues to rely on google's Android system.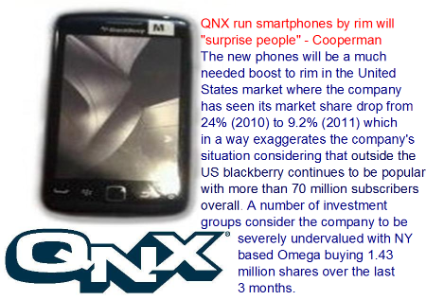 With a new innovative operating system on hand, RIM's next major smartphone release could be a significant event for the tech industry.

The QNX phone release is expected to be in about half a year, just after playbook gets its own native Blackberry Enterprise Server complaint e-mail

; That means the first QNX phones (rumoured to be code-named the BlackBerry Colt) most likely will have their own native e-mail, since the server-code for playbook will probably also be tailor made for the QNX OS. Latest reports suggest that the next generation phones will also compatible with Android apps (though the company has only publicly acknowledged the Android compatability with QNX powered playbook) which should eliminate most concerns over the company's future (Android currently runs about six times as many apps as RIM (250,000 vs over 40,000). Making smartphone battery life last longer can be a difficult task, especially if they run on mutli core processors.
QNX technology (Neutrino) is already used in many car computer systems and is one of the reasons Playbook's touch screen interface is so fluid.
Despite confrontations with the Indian government regarding BlackBerry security features, on June 22, 2011 Research In Motion successfully launched the BlackBerry Playbook Tablet in India. (Report: Blackberry's RIM Launches New Playbook, says talks with Indian Govt are on) Blackberry smartphones remain popular in the emerging markets of Thailand and Indonesia. On August 29, 2011 RIM and Moviestar launched the Blackberry Torch 9860 in Spain. (Business Report Thailand) Update: In the quarter ended August 31, 2011 RIM's earnings were lackluster (down 58% to $329M vs $797M a year earlier, investors reacted by pushing the share price down 18%) however not surprising given that the company's only new phones were released at the tail end of the quarter meaning the boost in cash flow won't be realized until the next quarter. Revenue remains strong ($4.2 billion compared to $4.6B a year earlier) with revenue estimated at up to $5.6 billion in the next quarter (3rd). Sales of playbook were down 60% to 200,000 (about what Apple sells in two days) which isn't great but not really surprising given the popularity of iPad (RIM remains one of only a handful of companies with growth potential in the tablet market). Blackberry sales were 10.6M in the quarter, within range of expectations (around 11 million). Android phones continue to be RIM's biggest threat in the smartphone market with Apple's iPad posing the most competition in the tablet market. Intense competition from cheaper products rolled out by Apple and Google is the main reason for the drop in earnings which are lower but haven't dropped to nil like Nokia.
Commentary: When discussing blackberry's problems with a friend of mine he said "being better at keeping your problems out of the news doesn't make you a better product", I agree with that. Blackberry's problems seem to be getting a lot of attention lately but when you consider that every smartphone marker goes through an awkward phase/growing pains at some point (motorola, nokia, even apple with a few of their product enhacements) singling out one company lets another off the hook.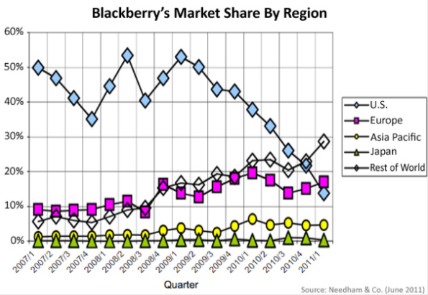 Commentary - In November China surpassed the US as the biggest smartphone market in terms of shipments (not revenue yet which remains the USA) where flailing Nokia maintains the lead in market share (but Android is chipping away at it) meaning that there's an opportunity for RIM to capitalize. Apple is still experiencing problems in Europe (not as bad as Nokia which got its share cut by 50% during 2011) with the iOS falling to nearly 20% in France and Germany meaning it recorded negative 5% and 10% growth over the last year. The opposite is happening for Android (11% growth). Android has three times the market share of Apple in Germany which should mean a lot since Germany is Europe's biggest market (it also remains a hostile place for Apple look no further than the recent patent ruling in favor of Motorola which affects the iPad too) so it could be a while before Apple gains back any of the losses in market share.
All is not lost for Apple internationally. The iOS is still at over 30% in the UK (only European country that's over 30%), Japan (38%), Australia (41% and growing) and the United States (36% and growing). Android dominates in South Korea while Nokia, Symbian lead in China and Brazil (however Nokia lost a lot of market share last year). In 2011, Apple sold 70 million iPhones, 30 million iPads and 59 million other products. In the first quarter of 2012 Apple sold iPhones at a rate of 285 per minute. Apple has $97.6B in cash (ended 1Q2012) and a 65% market share in tablets (down from 90% last year) however since the tablet market is bigger iPad sales were at 15.43M in 1Q2012 more than the 14.8M sold during the entire 2010 calendar year. Apple's $13.8B in profits in that quarter exceeded Google's entire fourth quarter revenue.

Update: Subscribers were up 35% in 2011 to over 75 million; up another 5 million in 2012 to finish the year at 80 million with Indonesia continuing to be a blackberry nation (there are 6 million blackberry users making it the most popular brand at 46% share 3Q2011 up from 40%) in fact its popularity combined with a half price offering on the Bold 9790 to the first 1000 buyers, was enough to cause a stampede in Jakarta. The popularity of the Bold 9790 dubbed 'Belagio' in Indonesia proves that the high end market outside America is growing (great news for Rim since that should help stabilize margins which were at 27% 3q11/36% first nine months of fiscal 2011). The company spent $369m on research & development in the November quarter of 2011 an increase of 3.4% vs 3q2010.

Update: BlackBerry was one of only two operating systems to gain US share during the month of December (keep in mind that Java ME was down for the year while BB was not); The figure considers all mobile devices even the ipad and other tablets (smartphones represent only about 25% of mobile devices worldwide) so the market share gain is a feat all things considered (Sprint, Verizon not yet carrying the playbook).

Smartphone prices vary between companies, affecting demand

In Canada, Android-run LG phones are the cheapest with the Android Optimus 1 at about $150. BlackBerries is next with an average of around $300. Apple's phones are the most expensive; low end models start at $500.
Platform diversity makes it easier for Android to compete BUT in the long term it will lead to new problems
Unlike some of its competitors Rim is still betting mostly on its own devices and sotfware Google is taking a more liberal approach; as long as device markers comply to the Compatibility Definition Document industry standard, they can make use of just about anything produced by Android. Platform diversity, something that RIM and Apple are more wary of getting into, has already begun to have negative effects on Android in the form of Android fragmentation; Multiple phone manufacturers with one carriers apiece, simultaneously supporting more than one active version of Android. That has led to more troubleshooting problems and other hardware & software issues that are increasingly difficult to resolve due to there being less consistency across devices. Also a problem: Google can't address an issue as efficiently as say rim can because google doesn't design the mobile devices. As a result carriers are losing as much as $2B a year from phone returns/replacements; In fact during the 4Q2011 Sprint, the #3 US carrier reported a $1.3B loss, it sold 1.8 million iPhones and added 1.3M more net subscribers. There's also the issue of patents. Any patent infringement charged to Android affects all of device manufacturers that use it including market leaders like Samsung, HTC and LG.
According to Impressions, in the third quarter of 2011 Research In Motion was the only company that posed significant competition to Google and Apple in the connected device & smartphone mix on Millenial networks, with a 13% overall market share compared to 56% and 28% for iOS and Android, respectively. RIM also had the 3rd (Curve), 7th (Bold) and 9th (Torch) most popular mobile phones which combined to represent 9.03% of the market; out of the top 20 handsets the ones that ran on Apple's operating system represented 12.55% of the market compared to 9.72% for blackberry. As a manufacturer, RIM ranked 4th overall just behind HTC at 11.05% with 4.6X the market share of Nokia. (Millennial: Android usage doubled iOS in Q3, iPad king of tablets with 456% growth) The first week of November 2011 the iPhone4s was rejected by America's 6th leading carrier, US Cellular on the basis of risk and profitability (other carriers have voiced frustration with this, for some it has taken as long as 4-5 months to realize any profit from the partnership with Apple T-Mobile the 4th largest carrier, also has shown little interest in the iphone). AT&T and Verizon remain the only major US cellphone companies that carry the iPhone. (USA Today). With regards to Amazon's Kindle Fire, the product has had a number of negative reviews with possibly half of all products shipped in the first quarter of release being returned (cnnfn: How Many Kindle Fires Being Returned To Amazon). Problems related to defective internet Wi-Fi connections are the main concern. Factoring in losses from future content sales, it may be a while before Amazon realizes profit from the device.
RIM has an industry low price to earnings ratio of 3.38 (November 10, 2011, down from 4.21 on July 26, 2011; that compares to 24.3 for Motorola (MSI) (July 26, before acquired by google), 28.7 for Nokia (up from 12.06 July 26), 13.90 for Apple (down from 26.7 July 26) & 20.73 for Google (was 23.5 July 26) meaning that RIM's earnings yield is unusually high, however one must also consider the impact on P/E caused by RIM's lowered future earnings growth rate (earnings in the March to May period of 2011 were 9.6% lower than March to May 2010 (compared to a 128% increase for Apple) however that was at a time when Smartphones were more expensive and Android (available at cheap prices) wasn't as widely used).

Also consider that Nokia (P/E ratio of 28.7 which is 9X higher than Research In Motion) recorded negative net income in the quarter ended June 2011 (US -$366 million compared to a profit of US $745 million it had in the quarter ended December 2010). In the last quarter of 2010, RIM's net income was only $166 million higher than Nokia's, in contrast with the second quarter of 2011 when RIM profited US $1.061 billion more, making Research In Motion's struggles seem mild in comparison. In the 13 weeks ending November 27, 2010 92% of RIM's revenue growth came from outside of the U.S., in the first 9 months of that fiscal year just over $3.6 billion in revenue came from outside of the U.S. compared to under $2 billion from the U.S. Most of the increase came from sales of the more expensive Bold 9780 and Curve 3G meaning that the high end market in emerging economies is growing.
Blackberry has a number of advantages over competitors that have in the past not been given due recognition (playbook supports Adobe Flash, Adobe Mobile AIR and HTML-5) (India: Rim Launches New Playbook, Says Talks With Indian Govt Are On); When/if the media acknowledges that the company's prospects can only go up. One issue that seems to always come up is software applications (apps) for blackberry which haven't been as numerous, cheap or easily accessible as those available on iphones. Though smartphone users, on average only use a handful of them regularly (which blackberry in most cases provides) the competition has been hammering away at it, possibly overplaying the problem. In response RIM has been less restrictive when it comes to allowing android uses on blackberry and has put more emphasis on developing apps. Blackberry phones continue to have superior battery life (when compared to alternatives), that could be one of the reasons RIM's devices were late with regards to specific product enhancements (took longer but the outcome is a more efficient product).

In the month of August (2011) Research In Motion released new phones for the first time in a year, the newest blackberry smartphones are the Torch 9810, Torch 9860 and Bold 9900 all of which run on the BB 7 operating system, which is 40% faster than the 6 and twice as fast as the 5. Additionally, they utilize Liquid Graphics technology allowing for seamless zooming and scrolling. Though an improvement, these phones are not considered a major part of the company's future; that responsibility lies with the QNX phones to be released in 2012.

According RBC's Mike Abramsky, sales of the new blackberry 7 model could top 22 million in fiscal 2011 out of 54 million total units. The average selling price of the Blackberry 7 phone is estimated to be about $292.

(RIMM: RBC Sees Wide EPS Range On BlackBerry 7 Sales) For the third quarter of 2011 (Sept-Nov 2011) revenue is expected to be in the range of $5.3B to $5.6B or about 33% greater than second quarter revenue, that's because sales of the newest phones will begin making an impact (weren't released until the tail end of the 2nd quarter).

Apple was the only top 5 original equipment manufacturer to record market share increase in the USA; Both LG and Motorola saw their market share in that category fall by the same amount as Rim (0.7%).
The United States only contributes about 36% of Rim's revenue and about 2/14 million blackberry sales quarterly.