With all the sanctions being put on Iran by the West (under pressure from the United States) you'd be wrong to assume that Iran's oil exports have dried up. It's not just India and China buying either. Traditional US allies South Korea, South Africa, Malaysia and Sri Lanka are also buying at steadily increasing rates.
With that said, Iran's oil industry has suffered under UN sanctions. For instance, in July 2012 the International Energy Agency reported that the country's oil production fell to 2.9 million barrels a day down -14.7% from 3.4 million bpd the previous quarter. Of that, exports accounted for between 1.2 and 1.8 million barrels a day in June 2012 (down from 2.5M bpd in 2011).
The drop in output is significant for two reasons:
1) It marked the first time in 20 years that Iran's monthly production was under 3 million barrels per day. Sanctions played a big role in the decline, cutting production by nearly 1 million barrels per day.
2) It fell to third among opec nations behind a resurgent Iraq (up to 3 million barrels per day in July).
For September 2013 Iran produced oil at a rate of just under 3 million boe/d = 20% lower than one year earlier.
In first quarter of 2012 Iran made $22 billion in oil sales, 8.3% less than Iraq. That's in stark contrast with 2011 when Iran made 34% more ($94 billion). Oil still dominates Iranian exports accounting for over three quarters of all exports.
Nevertheless, Iran still has buyers for it's oil. They include heavyweights
China - 550,000 bpd Sept/Aug/July 2012
India - 300,000 bpd
Turkey - 160,000 bpd, South Africa <60,000 bpd
For the month of September 2012 China ordered 15.5M barrels of oil which represents full contract volumes for the third month in a row. The oil is being delivered by vessels owned by the National Iranian Tanker Company because European ships no longer offer insurance on ships that carry Iranian oil.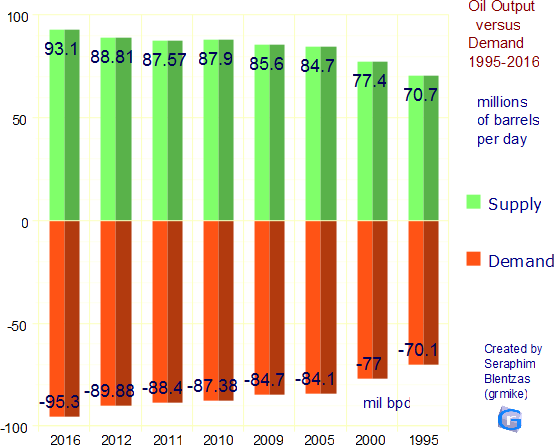 Shown Above: Global Supply and Demand information compiled by me using data provided by several industry leading agencies late last year.
Notes: --> July 1, 2012: European Union finally bans imports of Iranian oil. The EU used to buy ~ 1/5th of Iran's oil (which supplied 4.39% of its needs) but gradually weaned itself off of it.
--> Iran is the world's #5 producer of natural gas. Natural gas prices are currently very low and that has caused a decline in international investment (major companies like Encana and Anadarko Petroleum are taking on big writedowns on assets due to natural gas prices being too low / investing in asset development isn't worth it).