In September 2013 China surpassed the United States as the largest importer of oil. China already was the largest importer of Middle Eastern oil but this new distinction is sure to get a lot of attention;China will have a bigger influence on the the price of oil globally. For the month China consumed 10.9m bpd but only produced 4.6m bpd (oil imports 6.3mbpd). The US 18.6m bpd but produced 12.5m bpd (oil imports 6.1mbpd).
December 2013 - last week of November, US oil inventories down 5.59 million barrels vs estimate of 0.5 million. Distillate down over 2m. This could signal higher oil prices on the horizon. note also: bottom leg of keystone XL pipeline about to commence delivery.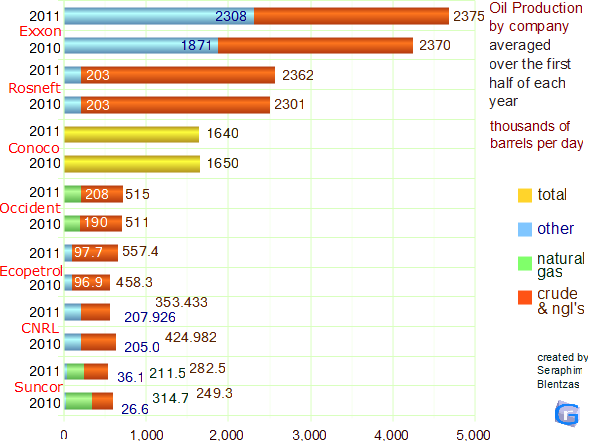 Between 2011 & 2014 China's oil consumption estimated to grow by +13% to 11 million barrels a day - China's domestic oil production is only 3 million bpd. In 2013 USA oil consumption dropped to 18.7m bpd from a high of 20.8m bpd in 2005.
Chinese companies are accumulating oil (Nexen).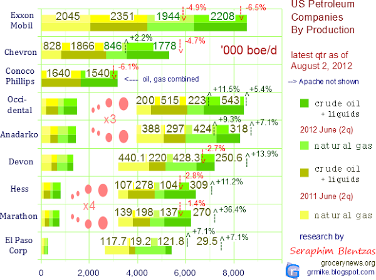 Oil prices don't have to be high ! Between 2006 and 2012 oil imports from Mexico (-30%) and Venezuela (-40%) down significantly despite growing proven and probable reserves (as of 2013 Venezuela has 211 billion barrels of oil equivalent which is more than Canada (175b boe), America's largest source of foreign oil.
Both Mexico and Venezuela elected new leaders in 2013 meaning that many of the barriers to foreign investment that were in place could be removed. If the US begins to perceive them as stable sources of supply, imports could grow significantly in a short period of time. If the right extraction technology is in place, Mexico's oil reserves could double (11 billion to 22 billion boe, 11 billion being heavy inferred resource). Canadian technology by Petrobank (thai) would go a long way to helping South America's oil industry.

Top Banner: Data includes natural gas production converted to oil equivalent
January 20, 2011 Obama rejected a permit for the Keystone Pipeline. In response, Stephen Harper threatened to give more support over to the other pipeline project Northern Gateway Pipelines which will take the oil to British Columbia then overseas to destinations in China. Canada is home to 90% of 2P oil reserves outside of OPEC nations. The irony behind it all is that the decision by Obama makes the US more dependent on oil from unstable sources (Venezuela, Saudi Arabia) while also making the US a less financially secure/more hostile place to do business for traditional allies like Canada.
Here's what Newt Gingrich has to say about the Keystone Rejection

The Iranians are practicing closing the straits of Hormuz, the Canadian prime minister has already said to the US president, if you don't want to build this pipeline to create 20,000 American jobs and bring oil through the United States to the largest refinery complex in the world, Houston, I want to put it straight west in Canada to Vancouver and ship the oil direct to China so you'll lose the jobs, you'll lose the throughput, you'll lose 30 or 40 years of work in Houston. The president cannot figure out, I'm using milder words here, utterly irrational to say I'm now going to veto a middle class tax cut to protect left wing environmental extremists in San Francisco so that we're going to kill American jobs, weaken American energy, make us more vulnerable to the Iranians and do so in a way that makes no sense to any normal, rational American.